At Palava, everyone is cautious and regularly measures their Carbon Footprint. While the city is designed as per the 5-10-15 model (this model ensures that all facilities in the city are accessible within 15 minutes), Palava continues to introduce new eco-friendly initiatives to help its citizens offset their carbon footprint.
Palava had partnered with TILT, an eco-friendly electrical bike-share system to help citizens commute anywhere within the city. Be it a morning workout, weekly errand, or a weekend ride with the family, TILT's well-maintained, e-bikes are best suited for all needs.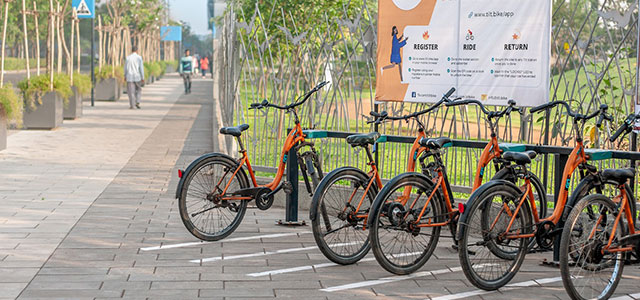 Equipped with an exclusive app to choose the preferred bike model, specially designed for Palava, and multiple power-packed charging dock stations across neighbourhoods, these e-bikes have become every citizen's first choice for any intra-city commute.
Since its launch at Palava, TILT has recorded a usage of over 1.5 lac rides, which amounts to offset Palava's carbon footprint by over 100 tonnes! Today the city has over 20,000 registered riders, and this number only keeps multiplying as every rider brings along a new partner for the next ride.